With over 30 years of experience behind us we can confidently offer a cleaning service that is tailored to a client's unique requirements. Our expertise in the London area covers all types of premises from publishers and retail to corporate offices and educational establishments.
George Benson Ltd prides itself on delivering the highest standards of cleaning services on all contracts.
Our cleaning contracts are tailored to a client's unique requirements, covering daily, periodic and one off cleaning services.
All George Benson Ltd personnel are fully trained in the tasks they need to perform, wear corporate uniform and appropriate PPE whilst carrying out their duties.
Cleaning products used are either brought with the team or stored securely on site. The relevant, COSSH information is also provided to meet health and safety standards.
Our Comprehensive Services Include: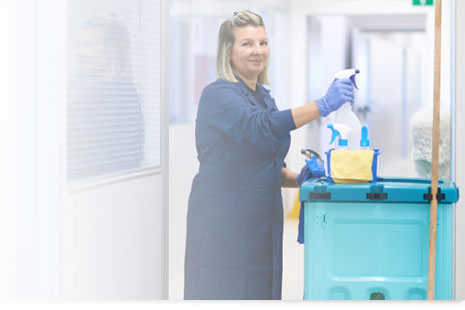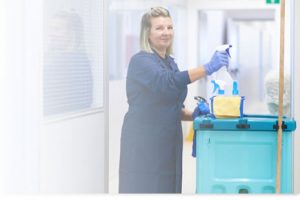 Desk clean & tidy – dust and wipe surfaces using anti-biological solutions removing finger marks, stains and spillages
Computers & monitors– maintaining dust-free equipment
Vacuum cleaning– carpet, carpet tiles and vinyl
Hard Floors– mopped and treated if required lifting stains, marks and chewing-gum
High, medium & low-level dusting– retaining a dust-free surface whether it is filing cabinets, furniture, tables, chairs, swivel chairs, pictures frames, skirting, door and window frames, telephones, fire extinguishers, light switches etc.
Meeting Rooms– tables cleaned and polished, chairs dusted, windows and doors polished, telecommunication and presentational hardware dusted and polished
Communal and high-access area inc. Reception– Dust & polish all surfaces and equipment with an emphasis
Kitchens– surfaces fully sanitised, floors mopped, food waste removed, appliances cleaned and washed, cups washed and placed back into cupboards, fridges emptied (if required periodically)
Toilets, washrooms and shower-rooms– Basins and sanitary-ware disinfected, floors mopped, glass and mirrors cleaned and janitorial supplies replaced
Windows, Mirrors & Glass– cleaned and polished using proven environmentally safe solvents
Bins & Refuge– Empty all receptacles and replace liners
Spillages*– cleaned using appropriate solutions depending on surface
Wooden surfaces– wax sprayed